Waterfall Edges
When you are ready to add massive impact to your kitchen, talk to the pros at Rock Solid Tops about adding a waterfall edge to your countertop design. This innovative feature takes its name from the visual appearance that the counter surface is cascading down the side of the cabinetry toward the floor. It is a feature that can be implemented on an island, peninsula, or seating area to create a more contemporary look to the space.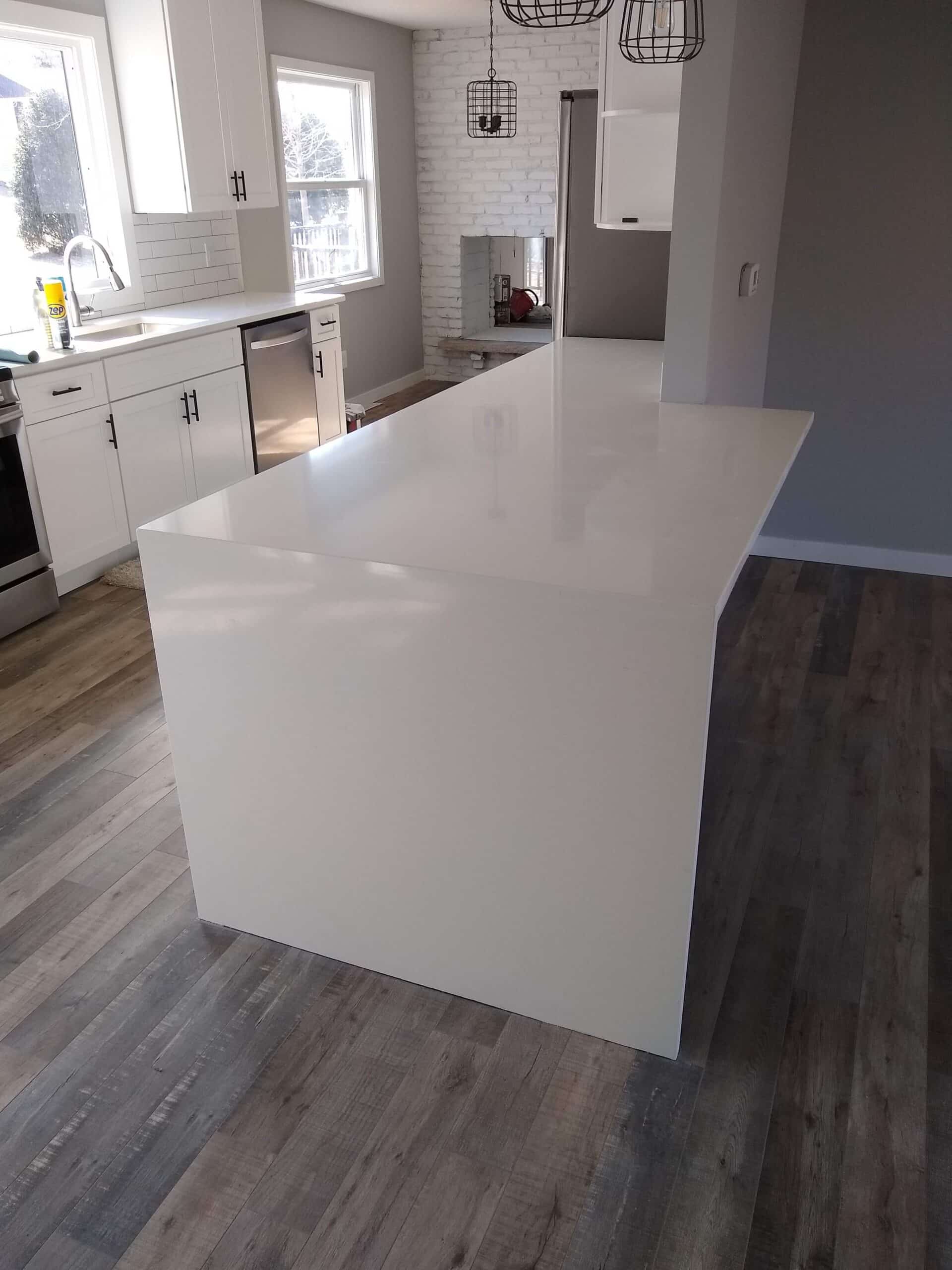 Why Homeowners In The Twin Cities Love Waterfall Edges
If you ask the average homeowner, it seems as if everyone congregates in the kitchen. The space that was once used for only cooking is now the heart of the home. And as such, this space must be multifunctional and offer a visually appealing and inviting appearance. Waterfall edges are a way to take something as basic and simple as a countertop and turn it into a design feature that adds beauty and impact to any kitchen. Few countertop trends can offer anything as visually unique yet useful.
With everyone gathering in the kitchen for meals, cooking, homeowner time, or just hanging out, countertops can take a beating. And one of the first areas to show excessive wear is the counter edge. However, when you have a waterfall edge, that surface is as strong and durable as the rest of the counter. So no more chips or flaking edged, making your counter look old and tired. It also makes cleanup a breeze, all the way to the floor. From spills and splashes to shoe scuffs and nose prints from pets, just a damp cloth has the waterfall-edged end of your cabinet looking great.
Some Design Tips
Many homeowners are taking some bold steps with contrasting colors. For example, a light-colored backsplash and countertops pair nicely with dark cabinetry and flooring somewhere in the middle of the range. The added pop of impact comes when you add a light-colored splash from a waterfall edge counter or island covering the end of a dark cabinet.
Pick Your Surface
The traditional countertop favorites are all ideal for waterfall edges. From marble and granite to quartz, travertine, and quartzite, you will love the impact added to your kitchen. In addition, some customers are opting to use this unique design feature with less traditional materials such as concrete or wood. The wood is a less contemporary look that adds warmth and beauty, while the concrete creates the ultimate durable surface.